Direct-to-consumer websites are the future of eCommerce, and we've seen so many amazing DTC marketing websites shine lately. We couldn't wait to share them with you!
DTC websites have risen in popularity because technology and software advancements have made it easier than ever for companies to sell their products directly to consumers, cutting out the middle man. Additionally, buying trends are changing; many customers prefer to buy directly from a company rather than an intermediary or third party.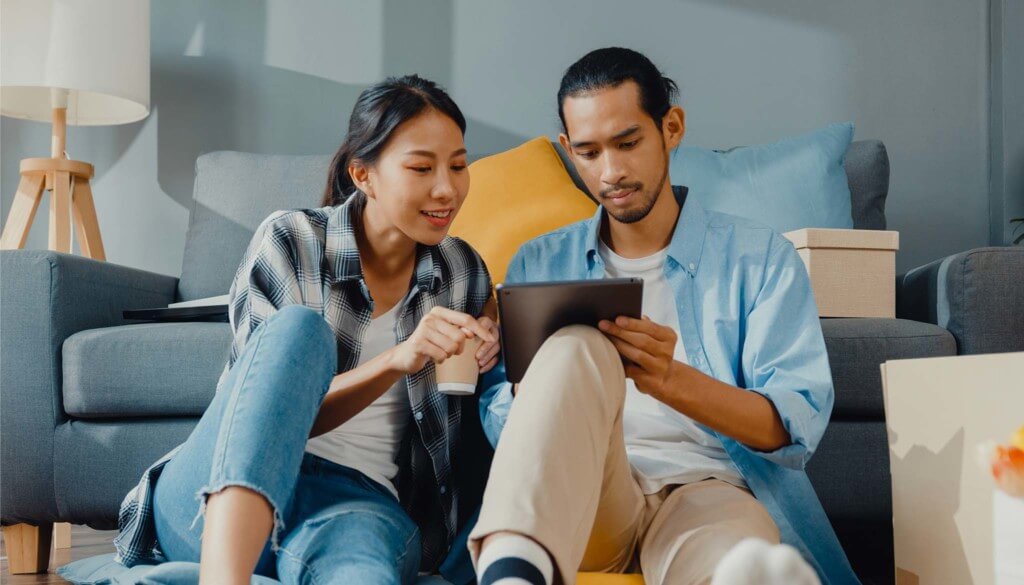 In a rush? We'll send helpful tips to your inbox.
By providing your email address, you'll start receiving two monthly design and marketing news emails from us.
Direct-to-consumer and CPG companies have also seen an increase in revenue because of new data-driven marketing tactics and design choices that allow them to have more control, resulting in increased customer satisfaction and higher conversion rates.
Sound familiar? If you're considering redesigning your website to begin selling direct to consumers, or if you're already well into that process, we hope these examples inspire you to try something new.
We've compiled a list of ten direct-to-consumer websites worth checking out, based on DTC marketing website design, user experience, and overall impact on the industry.
What Makes an Excellent D2C Website?
There are a few key things that make an excellent direct-to-consumer website, including:
A user-friendly marketing website design that is easy to navigate.
Clever DTC marketing strategy that uses customer data to drive sales.
Fast and easy checkout processes.
A focus on branding that is unique and memorable.
Excellent customer service options to make the overall buying experience easy, enjoyable, and valuable.
Examples of Successful D2C Websites
Below are ten DTC website design examples we love.
1. Birchbox
Birchbox is a subscription service that sends monthly boxes of beauty products to its customers. What started as a small startup has turned into a significant player in the direct-to-consumer space.
Why do we love Birchbox?
Birchbox was one of the first companies to capitalize on the direct-to-consumer trend. They have an excellent DTC website design that is easy to navigate, and their products are reasonably priced. They also make it incredibly easy to order items, and they offer a wide range of products, unlike most other subscription services.
2. MVMT Watches
MVMT Watches is a direct-to-consumer watch company that offers high-quality timepieces for affordable prices through its website. They are so popular because their watches represent excellent value and are very stylish.
Why do we love MVMT Watches' website?
Their target demographic is described as "young, stylish, modern." Their imagery and color choices represent that. They have an excellent, competitively priced product line. Their images are high quality, and they offer a "see the fit" option on their website to ensure customers are getting the right size watch.
3. Outdoor Voices
Outdoor Voices is an athletic wear company that offers comfortable yet stylish clothes for people who gravitate toward outdoor workouts. They've got the whole package, from clothing and accessories to shoes.
What do we love about Outdoor Voices?
You should check out the Outdoor Voices campaigns on social media. They're fantastic! Their overall website branding and imagery depict an aspirational lifestyle. The website has a clean aesthetic and is easy to navigate.
4. Smile Direct Club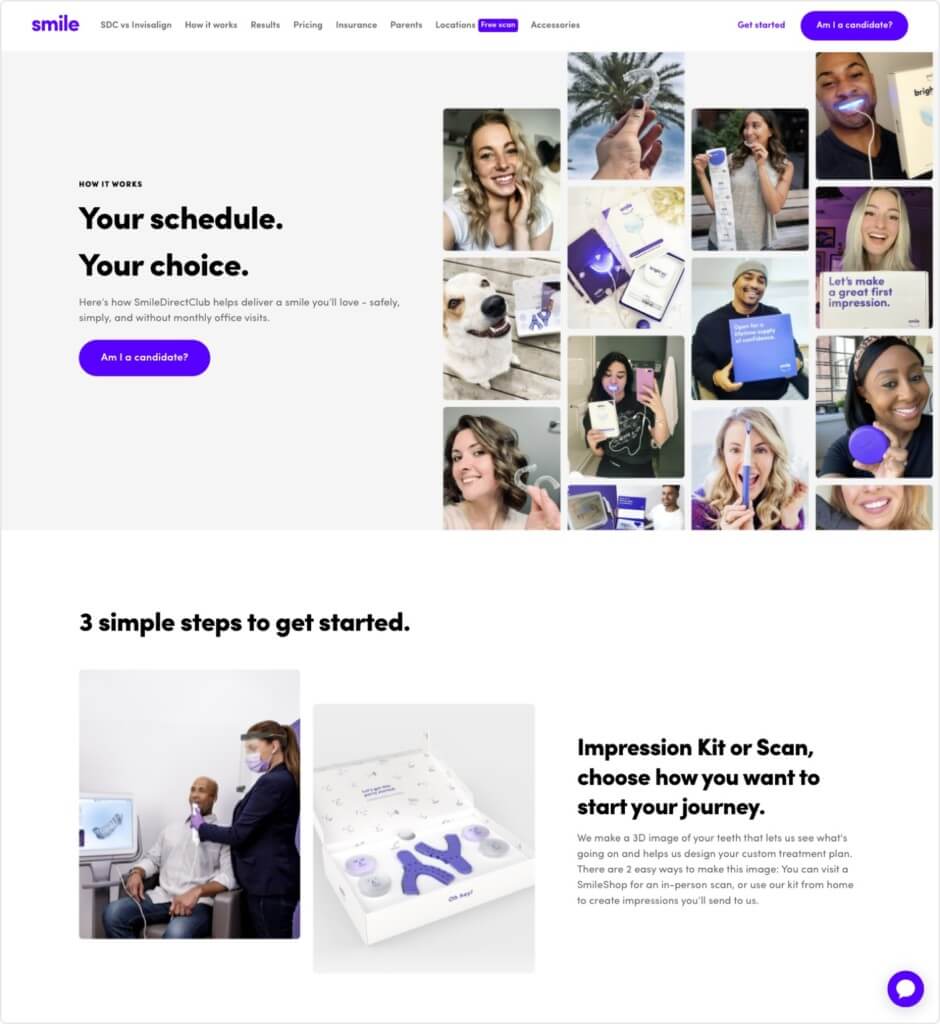 Smile Direct Club offers custom aligners and dental products direct to its customers. They don't require you to see a dentist or go in for any appointments, which means you can get your teeth straightened from home without taking time out of your busy schedule.
What makes Smile Direct Club successful?
The success of Smile Direct Club is mainly due to its ability to translate a complex situation into an easy-to-understand buying journey. Consumers are used to seeing a dentist or orthodontist to straighten their teeth. Smile Direct Club has broken that tradition with a fantastic DTC website that engages the curiosity of prospective customers. They break down the step-by-step process for their services and accompany each stage with illustrations. They also have a dedicated page to compare their service with their main competitor – Invisalign. Clever.
5. Warby Parker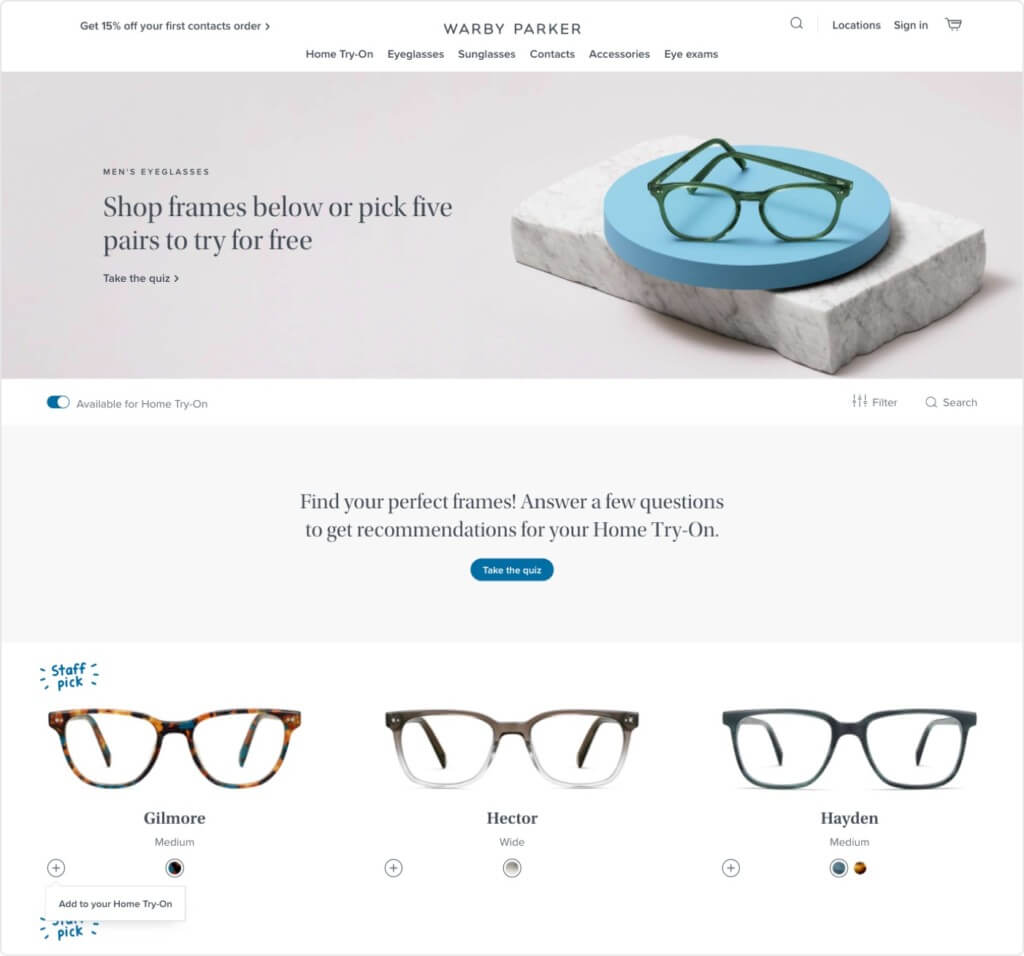 Warby Parker is an optical brand that offers trendy glasses for affordable prices. They are so popular because of their unique sales process, excellent value, and stylish frames.
What makes Warby Parker successful?
When buying eyeglasses from Warby Parker, you can virtually try on glasses before buying them, which helps a customer understand which frames suit their face the best. You can also order 5 frames to be delivered to your home, giving you the flexibility to choose the right frames in your own time. They also have an excellent return policy, fantastic service, and they offer a wide selection of glasses. Hard to beat that!
6. Grove Collaborative
Grove Collaborative is an eCommerce company that offers household and personal care products direct to its customers. They offer an affordable subscription service, which means you can get everything from diapers to dish soap delivered directly to your door for much cheaper than if you had bought all of these things individually.
What makes Grove Collaborative unique?
The success of Grove Collaborative has been mainly due to the forward-thinking design and copy of their website, which combines perfectly with their clever social media campaigns. With step-by-step instructions and high-quality images of their products, it's easy for customers to understand what they're buying. They also have a great video that explains how consumers can take full advantage of their subscription service. Copywriting is the real star here.
7. Allbirds
Allbirds is an apparel and fashion company specializing in manufacturing eco-friendly shoes. Allbirds is dedicated to making the most sustainable footwear and clothing using premium natural materials. They launched in 2016 and found success quickly. Their products are stylish, comfortable, and sustainably sourced. They hit the sweet spot for those of us working in less formal workplaces.
Why do we love Allbirds?
Allbirds made their way into the hearts of consumers by focusing on sustainability and responsible environmental policies. CEO and Founder Tim Brown told Fortune.com that he is eager to "prove the idea that profit and purpose don't need to be mutually exclusive." Their website is very user-friendly and easy to navigate. Their comprehensive FAQ section is worth exploring.
8. Organifi
Organifi is a health food company that offers organic and non-GMO products direct to consumers. They provide these high-quality foods at much lower prices than if you bought all of these items individually in Whole Foods or other similar stores.
What makes Organifi successful?
The products available at Oganifi are truly outstanding. They are catering to savvy, health-conscious shoppers, and their copywriting matches that perfectly. Each product page is rich with detailed information about the product, including a breakdown of its main ingredients and how it can benefit your health. In many cases, they use infographics to help customers understand the benefits of their products.
9. Casper Mattress
Casper offers quality mattresses at affordable prices. They offer a risk-free trial, which means you can try out their beds for 100 days, and if you aren't happy with it, they'll take back the mattress at no extra cost.
Why do we love Casper?
Reviews! Casper's DTC marketing strategy has a heavy focus on customer reviews. They highlight both the pros and cons of their mattresses so that customers can compare them to other similar products. Reviews are an essential part of a DTC marketing strategy, so be sure to incorporate them into your marketing website plan.
They also run many content marketing campaigns, which has helped them build a large and loyal following. Their blog posts are well written and accompanied with images and video content if needed, which helps build customer trust in their brand.
10. HelloFresh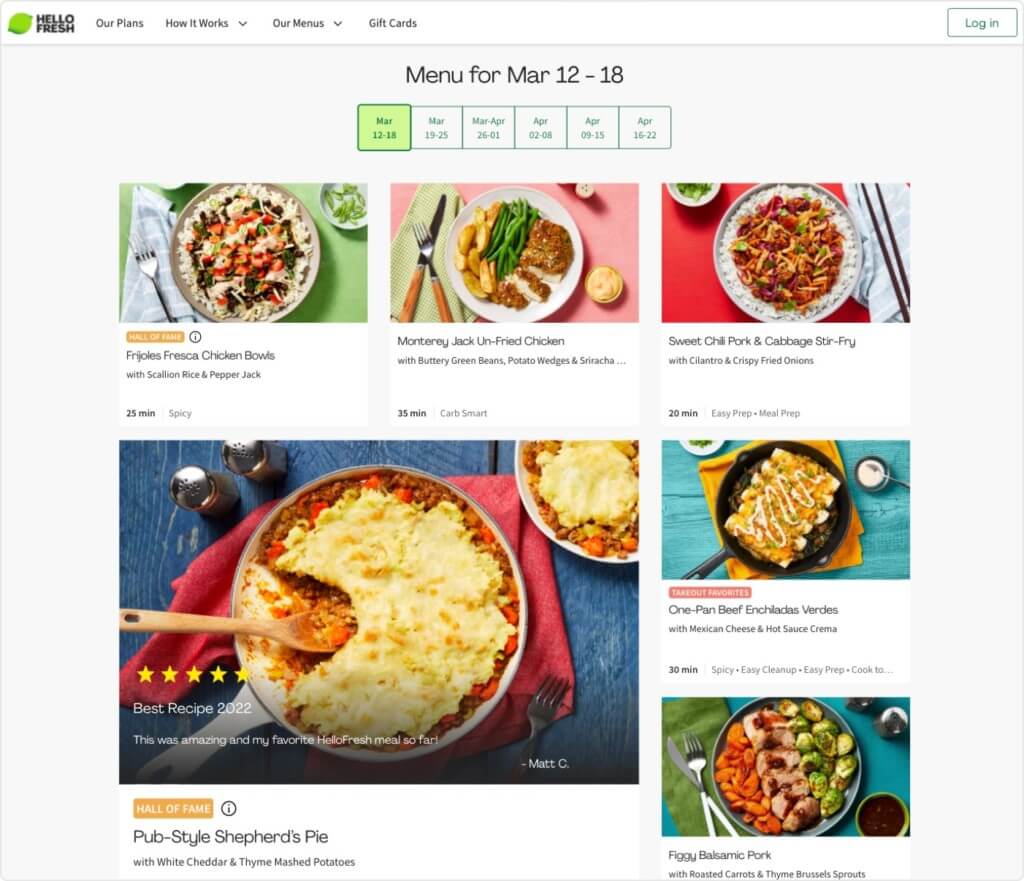 HelloFresh is a meal kit company that offers fresh, pre-portioned ingredients and recipes to help people cook healthy meals at home. HelloFresh is unique because they have a wide variety of meal kits, which means you can find something for everyone, regardless of any dietary restrictions.
What makes HelloFresh stand out from the rest?
They primarily focus on quality and flexibility, which has helped them create a wide variety of healthy and delicious recipes that people love. Their marketing website design is full of colorful food photos with cooking times, making it easy for customers to choose what they want. They also highlight user-generated content on their website to show real people using and loving their dishes.
Other Websites to Check Out
Peloton all started with a fitness bike that revolutionized the way people exercise at home. They are unique because they offer high-quality spin bikes, treadmills, apparel, and other accessories, which are extremely hard/impossible to find in stores.
Peloton continues to grow in popularity. Their innovative technology and the amount of content they produce are second to none. The Peloton bike is unlike any other indoor exercise bike, as it offers classes with real trainers that you can watch from home. Peloton makes a point to show this on their website with many video backgrounds, which helps customers understand the benefits of their bike. We have to mention the enthusiasm of the community of Peloton users. They're a passionate bunch!
Dollar Shave Club offers razors to customers for just a few dollars per month. They also provide professional care packages and grooming products at low prices. Their site is straightforward to use, and it's even easier on the wallet.
Dollar Shave Club has been incredibly successful because they offer unbeatable value. They have a great website that is easy to use, and they use marketing tactics like quizzes and data-driven product recommendations to increase sales.
Conclusion
DTC companies need to focus on a few key things to be successful online. These include producing high-quality products, building a marketing website that generates sales, marketing their brands effectively on social media, and following up with excellent customer service.
Doing this consistently will help your DTC website stand out from the competition to drive traffic and boost sales.
If you're struggling to expand your reach online through content marketing, marketing website design, or conversion optimization, start a conversation with us today! We can help you create a website tailored to your specific needs and help you reach your business goals.