A website is your brand's storefront to the world. It's your one chance to make a good first impression. With over a billion websites out there, it's more important than ever to stand out. A high-performing website is fast, secure, converts well, and easy to use.
High-performing websites are not just sites that have the right design and good content. They should also have the right technology working for you behind the scenes.
What do we mean by a "high-performing" website?
Does your website feel overwhelming, confusing, or complicated?
Has your traffic slowed down?
How many leads, sales, or new members does your site bring in monthly?
HIgh-performing marketing websites are designed to solve all of these problems and more! Let's take a moment to explore this in more detail.
1. High-performing websites move the needle.
We define a high-performing website as a website that is fast, relevant, delivers high-quality traffic, and converts well. It also generates plenty of click-throughs and is optimized for search engines. Optimizing your website can bring increased traffic, leads, and sales.
2. High-performing websites solve a problem for the customer.
A high-performing website provides the best possible user experiences and solutions to your customers' problems. When planned well, your website can help form a direct relationship between the company and its audience. It helps build trust, drive traffic, and increase revenue for the company.
3. High-performing websites stand the test of time.
Your website should stand the test of time and be adaptable to changing trends and technologies without losing value. It should have technology and plugins that can be sustained long-term, providing value to visitors over many years. A high-performing website can also help you create and nurture an engaged audience who shares your content on social media and revisits your site repeatedly.
What is the difference between a $100k vs. a $10k website?
The truth is, not everyone needs to invest $100,000+ into a website redesign. But for some brands, it's absolutely essential.
The difference in the performance of a $100k website vs. a $10k website can be huge.
A $100k website is built using a more robust strategy and is designed for a different purpose. It will have the potential to deliver more revenue and more opportunity for growth. It could also have a higher ROI and lower costs of operation.

Here's how to know if you need to invest $100k+ in a high-performing marketing website.
If you're a growing brand looking for a long-term solution to a high volume of traffic, leads, and sales, then a customized, high-performing marketing website is an investment that can pay off for many years to come. Learn more here.
Let's go behind the scenes to learn what makes a website "high-performing"?
Investing in high-quality design, user journey, content-led SEO, and traffic optimization is crucial if you're trying to build a successful business. High-performing websites are not just about aesthetics. They are optimized for speed and search engine success too. This means that the website has a clear call to action, it loads quickly, the navigation is seamless, and the content is relevant to the visitor's search.
In a rush? We'll send helpful tips to your inbox.
By providing your email address, you'll start receiving two monthly design and marketing news emails from us.
Here's a behind-the-scenes look at the building blocks of a high-performing website.
1. A solid foundation built on SEO.
When designing a client's website, we always begin with the end in mind. We understand their brand objectives deeply to design a customized high-performing website specifically for them.
We create solid, unique, interesting content and use various testing tools to optimize their website for the search engines. Finally, we ensure all their website pages have the right keywords in each page's title and meta description so it ranks well in the search results. SEO is the foundation upon which everything else is built.
2. Deep understanding of the user journey
There are two aspects to your user journey: the user experience (UX) and the user interface (UI). The UX is the website's design that helps users navigate it easily and find what they are looking for. The UI is the layout of information on the website, allowing users to understand where they are in their journey and how they can find what they need. Together, these two aspects help create a high-performing website by ensuring users have a simple time navigating your site.
When building a high-performing website, it's important to keep both UX and UI in mind. User Journey is a detail that is often overlooked, but one that can deliver a significant lift in conversions.
3. Each page has a distinct purpose
To boost conversions, every web page should have a distinct purpose.
According to a report by Good Firms, 84.6% of web designers say that crowded web design is the most common mistake businesses make.
You can avoid making that mistake by ensuring each landing page has one main purpose. Research your traffic trends to discover what types of content are needed for that specific page. The call to action is very clear when each page has one purpose. Customers get their questions answered, they know what we want them to do (opt-in, schedule a call, buy something, etc.), and this minimizes confusion while adding value.
4. Unique, original photography, images, video, audio
A high-performing website does not include generic content and stock images. Instead, it should be an opportunity to create something special that reflects your brand and makes it unique on the web. True marketing websites should be personalized and original, so you stand out from your competitors.
"90% of online shoppers say image quality is the most important factor when making online purchases."

– Meero.com
Use imagery to highlight what makes you unique. Incorporating unique and custom photography, images, video, and audio for your website makes a lasting impact on visitors.
5. Website personalization and customized experiences
When you truly understand your customers, they notice.
Customized experiences are powerful motivators for consumers. Brands can use data (they have explicit permission to collect) to create an individualized web experience for each customer. You can tailor your emails, ads, and content using past purchase data, geolocation, and site behavior.
You can achieve personalization on marketing websites by including tailored recommendations based on their activity, showing them dynamic content, and exclusive offers for your customers. This kind of personalization can enhance the user experience, address customer needs and desires, further encourage them to feel more connected to your brand, and eventually convert into a buyer.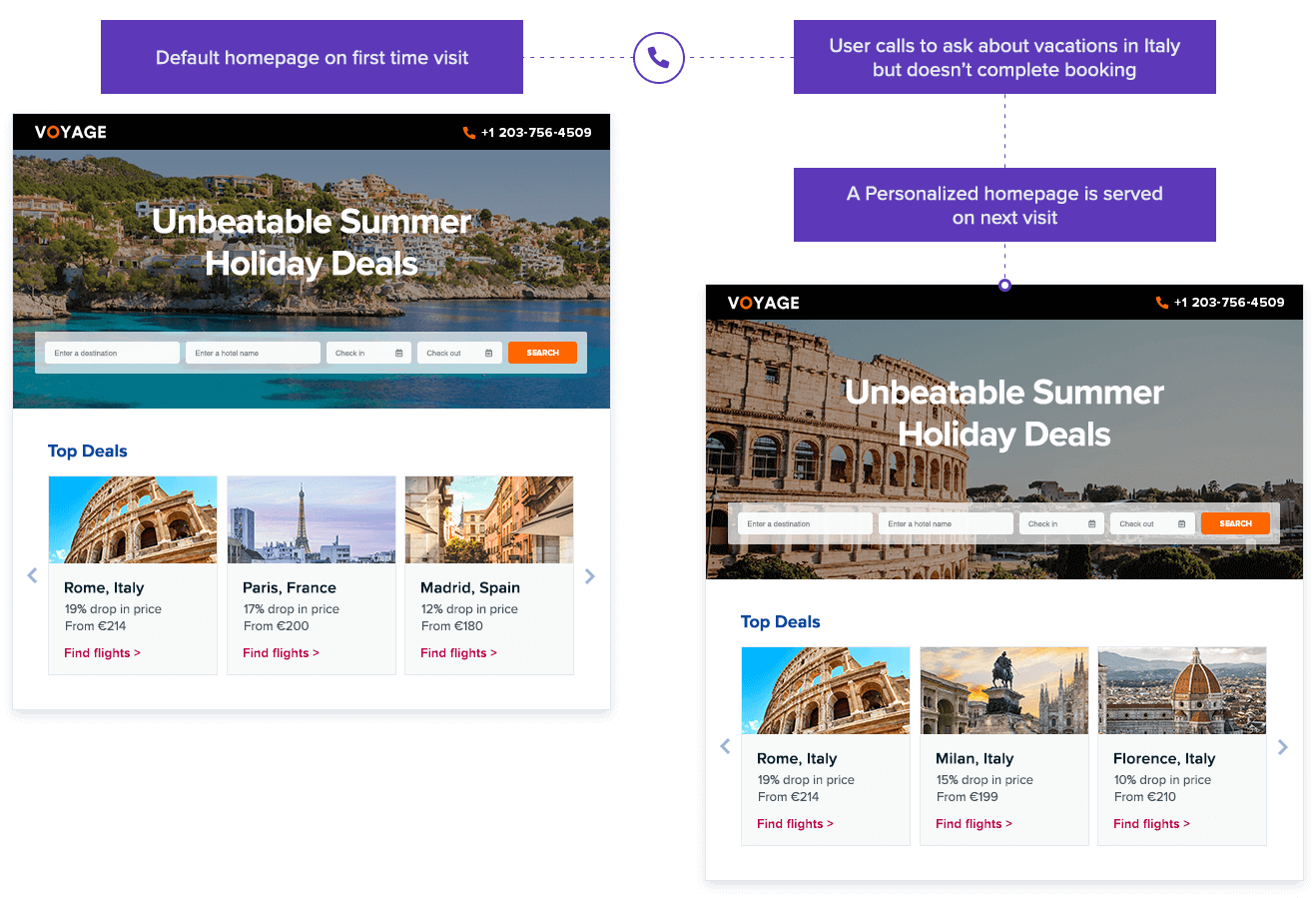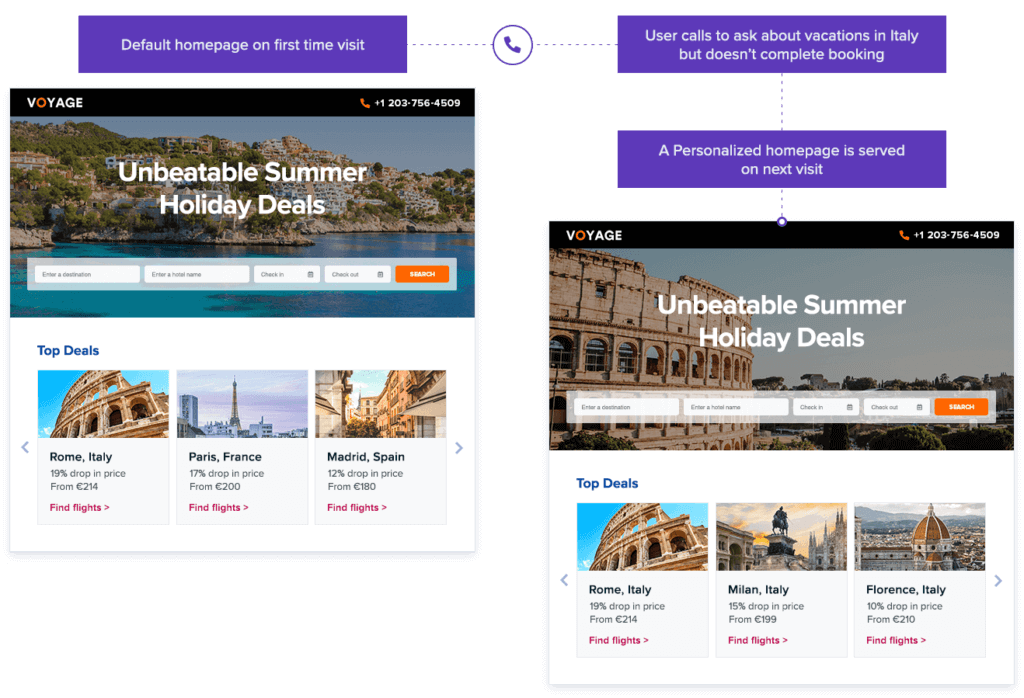 6. Conversion copywriting
When it comes to writing copy for your website, it can be challenging to write your own compelling sales messages that convert prospects into buyers. According to the 2022 State of Content Marketing Report by SEMRush, 40% of brands surveyed say they outsource their copywriting. Outsourcing to the experts can make all the difference.
Great website copy stirs up your emotions, flows smoothly, and can influence behaviors.
Unfortunately, some brands push content marketing and copywriting to the back burner. It's often overlooked until web traffic, leads, and sales numbers start to decline. That's why we prioritize copywriting and content marketing for every high-performing website we build.
7. Demand generation site architecture
For a business to succeed, it needs to be able to generate demand. In this context, "demand" means building brand awareness, increasing traffic, and connecting with more people who are interested in buying your product or service. It's "the big picture," if you will. A good demand generation strategy increases brand awareness and accelerates traffic and lead flow.
Demand generation site architecture is part of a custom-built website that uses content, social media, downloadable content, podcasts, webinars, videos, and other digital assets to create a predictable pipeline for your sales process.
8. Internal link structure
Internal linking is a strategy that helps us connect different parts of your website to boost performance. Ensuring your internal links are connected properly will help Google (and people) find and view all the pages on your website. When used strategically, internal links can help you rank higher in search engines, improve usability, and increase conversion rates. Another benefit of internal linking is that it makes your website easy to navigate. Search engine crawlers read through these links, which helps them to understand your website and its content.
Aren't all websites designed to be "high-performing"?
Short answer = No.
We've just walked through several of the extra steps we take to develop high-performing websites for our clients. Each step demands time, effort, skill, and attention to detail.
Most low-budget websites are not built following these standards. Many template websites are simple and not customized – meaning you're just plugging in your brand information into a pre-made template.
Not everyone needs a high-performance website.
High-performing marketing websites can generate high conversion rates by using advanced coding and essential features like we've discussed above. While these features are essential for brands looking to grow their traffic, leads, and sales, not everyone needs a website with this much power under the hood.
Many business websites don't need advanced technology, plugins, and customization. A simple Squarespace or Wix website might be fine for some small brick-and-mortar businesses. If your budget is small and you're not expecting to generate traffic, leads, sales, or members through your website, a simple template site might be a good budget option.
Artistic expression and the latest fads can age poorly.
The latest website design trends are not always high-performing. Sometimes, you see a website with all the bells and whistles. Often, they are trendy and artistic, yet they do nothing for performance. Many design trends have gained popularity in recent years, such as bold fonts, flat designs, and heavy use of animations. These trends are often implemented on websites with no regard for usability or performance.
Avoid copying others in your industry.
Do you want to look like everyone else in your niche? Probably not.
Beware of the copycat website. A copycat website is a website that is purposely designed to look like another website. This happens when brands only look at other websites in their industry for inspiration.
If you're copying another company or brand's design, content, and overall layout, will you really stand out?
The main reason copycats fail is that they don't focus on building their own brand identity instead of focusing solely on what other companies are doing well.
Comparisons: HPW vs. WIX, vs. Squarespace, vs. template website
There is a common misconception that all websites are designed to perform well. Let's compare a high-performing marketing website with a template website, Wix, and Squarespace.
The key difference between high-performing and template websites is that the former has a specific purpose – custom-designed for your brand. You can use the latter for any type of small business or service. Wix, Squarespace, and template websites are all designed to provide a simple, straightforward, basic business website.
While these websites may perform well for some small businesses, they might not be the best option for a brand looking to grow exponentially. Is the template relevant to your brand? Do you need to stand out in your industry? If your business would benefit from a website that is uniquely your own that reflects your personality and brand, then WIX or Squarespace is probably not for you.
A high-performing website doesn't need to be on WordPress/Shopify.
Platforms like EditorX and Site123 have some features that a website needs to succeed. These platforms are also easy to maintain, so you can focus on other tasks without worrying about coding and hosting.
You could also consider platforms like Webflow, which is more complex and robust, or Weebly. These are website-building platforms that let you intuitively design your website. You can also choose from a variety of templates or create your own.
Q: "What platform is best for my brand?"
A: It depends. If you're unsure, let's chat.
Each platform has its pros and cons, and choosing which would be the best for your business can be difficult. If all this feels a little overwhelming, that's understandable. Simply contact us to help you choose what would be in your brand's best interest. We're here to help.
Inspiring examples of high-performing websites
Things we love about Bombas: Buy one, donate one.
Bombas is a company that sells socks for $5.00 and donates one pair of socks for every pair bought. Its unique angle is that they are the only company with a social mission.
Things we love about Warby Parker: The at-home try-on.
Warby Parker is an online retailer of stylish and affordable eyeglasses and sunglasses. They created a new way for consumers to shop for glasses by having them try on frames at home before they buy. They focused on the customer experience and not just on the product itself; with the added help of a social message of buy one, and they give one away to people in need.
Things we love about Adore Me: Their' find your style' quiz.
Adore Me is an online retailer that sells lingerie. Their unique angle is their ability to let people take a photo and upload it to receive personalized recommendations for bras, panties, and other lingerie. Their find your style quiz allows people to find their style by taking a quick quiz. This quiz helps them figure out what clothing they should be searching for, how they should dress, and what colors they should wear.
Conclusion
A high-performing website is the foundation of your brand. It should be easy to navigate and provide a great user experience. To create a high-performing website, you need to know what to focus on: speed, content, visuals, or design.
Develop a clear understanding of your site's goals and the most important features in your new website. You should then identify the key performance indicators that will help you measure your success.