Who does Top of the Funnel marketing the best? We set out on a mission to find out. Before we reveal our research results, let's review why Top of the Funnel is essential to your overall marketing strategy.
What is Top of the Funnel (TOFU)?
Why is it important to do it right?
What are ways to successfully implement TOFU lead generation strategies?
For starters, here's a very comprehensive list of conversion tactics for top of the funnel marketing.
When it comes to generating and converting leads for your business, you won't get anywhere without doing TOFU marketing correctly. The ultimate goal is to work your visitors through the sales funnel stages.
TOFU is all about generating awareness for your products and services among your target audience and then "courting" them throughout their decision-making process.
Simply put, if you want to increase your conversion rate, revamp your TOFU marketing. How? Focus on the top five TOFU tactics and execute them well.
We've evaluated some of the most well-known brands on five TOFU tactics.
In the following article, you can glean insights and use them to refine your sales funnel for high quality lead generation that result in conversions.
The five TOFU tactics we'll look at to improve your sales funnel are:
Blogs
Guides
Videos
Infographics
Opt-ins/Lead Magnets
Let's get started learning from the best of the best across various industries. We'll identify who shines in each of these five TOFU categories, what they are doing, and why each lead generation idea works well.
Blogs
Blogs are a foundational marketing and TOFU strategy. If you don't have a blog, you're missing out on very inexpensive marketing for your products that you can control.

A good blog that ranks well in search will drive consumers to your website with very little investment of time and resources.
To get a good blog off the ground, you'll need content ideas that resonate with your target audience and are related to what you offer. You can take it one step further by optimizing your blog for SEO and creating an effective link building strategy (this is an awesome and powerful tool that continues to advocate relationship building in lieu of spammy, low-quality link building).
There are many different types and examples of blogs. We're going to look at three types of blogs: editorial, research, and reports. Let's start with editorial.
Editorial content is a form of organic content. Its goal isn't to "sell" the consumer on something. It's merely to drive traffic to your website. Think back to the old days of newspaper articles.
Editorial content features news-type stories along with content that answers questions your audience is trying to answer.

Parents.com is an excellent example of a brand that's knocking editorial content out of the park.
Parents.com editors address issues that interest parents, the articles range in topic.
"7 staycation ideas if your spring break plans are canceled" Or "1 in 3 families can't afford diapers and the new bill that might help."
Who's interests aren't piqued by these titles?
"Reddit mom demanding neighbor pay $300 after daughter dyed her hair pink" Or "Kids stepping up to help their parents in the pandemic."
Their titles are very clickable, which drives their high organic search traffic and backlinks.
Google a financial investment question, and you've probably come across Investopedia. Their content strategy is so powerful that it brings over 118.1 million visitors per month and 42.7 million backlinks.
Their IA is straightforward for the site's size, which offers a superb user experience and warms the belly of search engines.
Like a financial dictionary of sorts, they are pros at transcribing complicated topics into plain English, providing real-world examples and concise explanations for financial concepts.
They use a ton of IRL's to their curated dictionary, so their users can get quick answers to terms they may not know.
If you ever wondered the difference between an investment advisor vs. a broker or what a 529 plan is, Investopedia has an answer for you. Before you know it, Investopedia becomes a trusted source for financial information that you'll keep coming back to over and over again.
Payscale, a compensation research and insights company, does an excellent job producing reports for their blog content. Reports can help a company to establish authority in a specific area.
Payscale reports on significant issues that concern employers and workers, such as gender and racial pay gap and why people leave their jobs. In producing these reports, they have established themselves as a thought leader.
Their reports are visually beautiful, filled with color and charts that illustrate their findings. Payscale does an outstanding job of putting actionable CTAs and links throughout their content as you scroll through them.
The reports give the reader a lot of information and then subtly stop, offering the full report if the reader provides their information. You'll see related reports that are nicely organized at the end of the page.
Payscale is one of the best when it comes to research reports. They have used reports as a tool to gain backlinks, as well as the trust of some of the nation's leading businesses.
Guides are almost like mini e-books that can live for free on your website. Take, for example, Blacklinko's guides.
Backlinko provides guides on digital marketing and SEO strategies. On the homepage of their website, they feature a resource (often a guide) with a form to insert your email address to download.
This works well because the guide contains information the reader wants to know, such as SEO strategies, tips, and tactics for 2021. It's also simplistic with copy and imagery that doesn't overwhelm the reader.
Their Definitive Guide to Copywriting is helpful and visually appealing with fun graphics. Each chapter has its own icon.
Blanklinko has some of the top guides we've seen out there. They use fantastic imagery and dice content into manageable pieces for the reader to easily consume. And their content is also quality and super easy to understand, grabbing the visitor's attention and piquing their interest in other guides they've produced.
Video is everywhere these days. Why? Because it is a powerful lead generator. According to Opinmonster, video marketers get 66% more leads a year from video than other mediums.
Video is highly engaging and tells your brand's story in a visually appealing way. It's much easier and takes less time to watch a quick video than reading a blog.
In the consumer-decision making process, video also plays an important role.
"8 out of 10 people have bought an app or piece of software after watching a video."

Source: Oerblo
You can use video to explain your product or service, tell an emotional story, or demonstrate how your product works. The tech companies such as Apple and Fitbit, are a great example of companies using video as a primary way to introduce and sell their products.
When video started to become popular, industries such as food and fitness were a natural fit.
These days, everyone uses video, as a marketing tool—it's difficult to determine who stands out from the pack.
For this category, Fitbit and Blogilates are our picks: two fitness brands using video in entirely different ways.
In one minute, you learn everything to know about one of Fitbit's smartwatches. It's easy to quickly understand the product's features and benefits by combining moving images and text paired to a lively beat.
Another example of a brand using video as a TOFU strategy is Bloglilates, the #1 female fitness channel on Youtube. On the Blogilates site, there is a banner dedicated to featured videos.
When a visitor clicks to view more videos, it takes them to a separate page to search and filter videos by difficulty level and body focus.
Blogilates founder, Cassie Ho, uses text on the video stills and engaging descriptions to draw the viewer in. With a library of video content, Blogilates can capture leads and keep their target audience engaged with their content.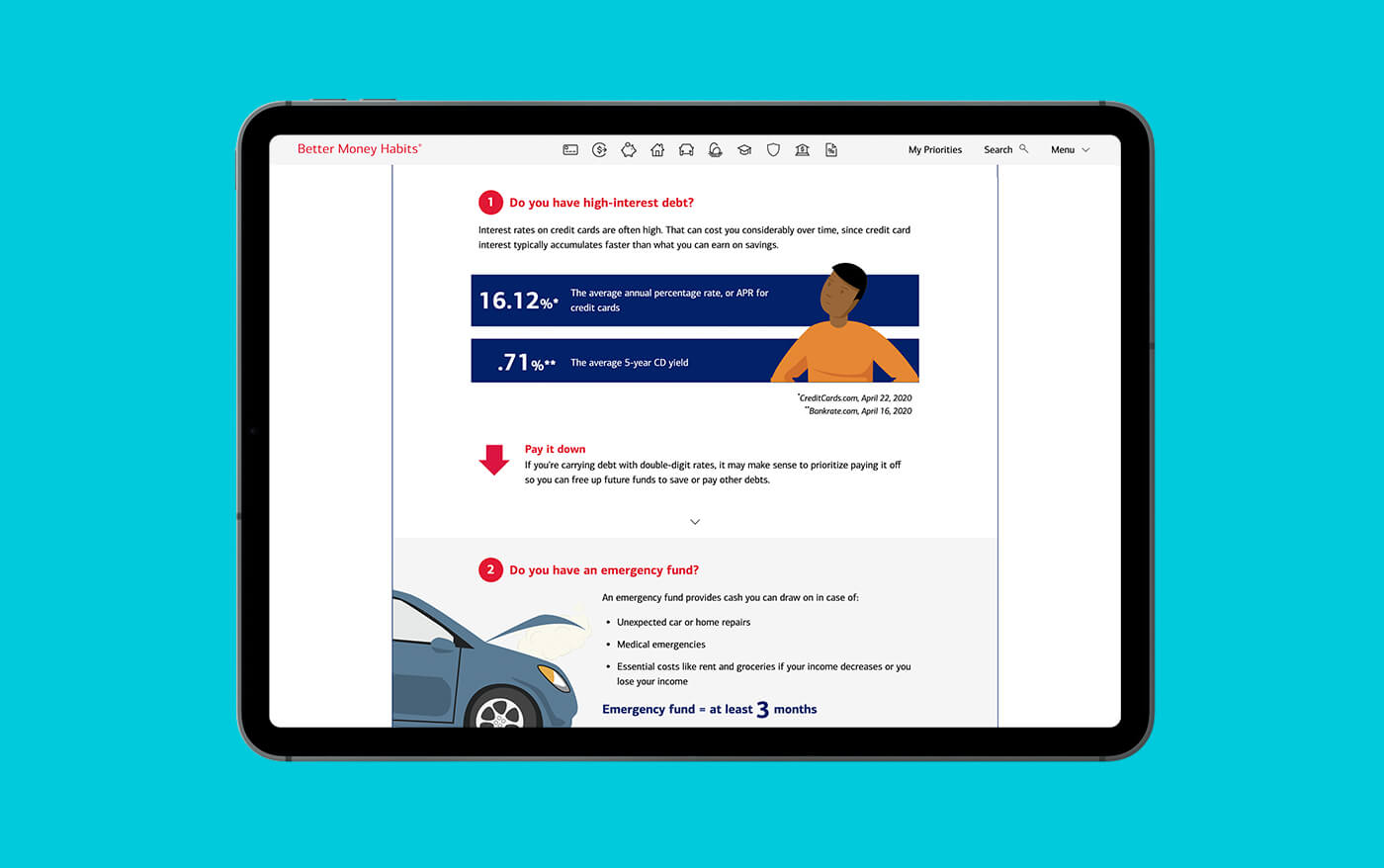 People tend to remember infographics. Infographics improve reading comprehension by as much as 50%.
When text is paired with visuals, people are much more likely to retain the information they read, making infographics an attractive educational and marketing tactic.
Big companies such as Home Depot and Bank of America use infographics to help educate their ideal customers on processes related to the products they sell.
On Bank of America's (BOA) blog, Better Money Habits®, they use infographics to explain things like credit card debt and how to finance a car.
The visitor learns valuable information in a fun and engaging way that helps them solve their problem. At the end of the infographic, BOA links to related content, products, and a way to schedule an appointment with a banker.
BOA even has interactive infographics that populate with information and images as the reader scrolls through the graphic.
With titles such as "do you have an emergency savings fund?", BOA's infographics drive awareness, getting the reader to ask questions and ponder what to do next. They use infographics to effectively capture leads and follow up with CTAs to take action.
Opt-Ins/Lead Magnets – HubSpot
An opt-in or lead magnet is a classic TOFU marketing strategy for website visitors. Typically they will use a landing page to entice the consumer with something of value in exchange for their contact information–email or other personal information.
Lead magnets can be guides, tips, infographics, e-books, checklists—you name it. Anything you've created or perfected that might be valuable to your potential customer can be used as an opt-in at the TOFU to generate leads.
HubSpot, a popular CRM platform and authority on content marketing, literally has hundreds of opt-ins on their site. They use their blog and pop-ups on their website to entice readers with free guides, e-books, and other resources.
When you click "download now," the button takes you to a form to fill in some personal and company information to receive the offering.
HubSpot has perfected capturing leads through opt-ins and advises other companies to do it for their businesses. That's why HubSpot is our favorite for opt-ins and lead magnets.
Attract, convert, repeat
Blogs, guides, infographics, videos, and opt-ins/lead magnets are among the most effective tools to generate qualified leads. By making them attractive and engaging to your target audience, you can convert more leads at the TOFU.
You've seen our list of companies that are executing TOFU tactics the best. What brands are top of your list? Who comes to mind in your industry for having a fantastic blog or the catchiest videos?
Draw inspiration from brands inside and outside of your industry. Apply what they are doing well to your TOFU content and watch your leads increase and conversion rate grow.