Industry
Web Services
Project Details
Independent financial firms across the country look to the Financial Services Institute (FSI) to represent their voice in Washington, D.C.. FSI's concentration on advocacy helps financial service advisors and firms mobilize with a single voice, coordinate messaging with elected officials, and have a seat at the table on Capitol Hill for critical issues.
Our Results
+35.2%
Increase in Mobile
Meeting Members' Needs
A staff intake survey provided key insights from the marketing and membership teams that traffic from modern device formats, such as tablets and mobile phones, was quickly increasing and that members were struggling with the mobile user experience. We worked closely with the FSI team to refresh the web design and reimagine their member user experience.
Delivering a better outcome
The FSI Voice, a publication for members of the Financial Services Institute, has been published quarterly for 6 years exclusively in portable document format (PDF). We suggested modernizing this strategy and publishing directly to the site instead making content shareable and accessible from anywhere. We designed a fresh editorial layout for the publication that not only looks great but also adds new and useful functionality including filtering and search.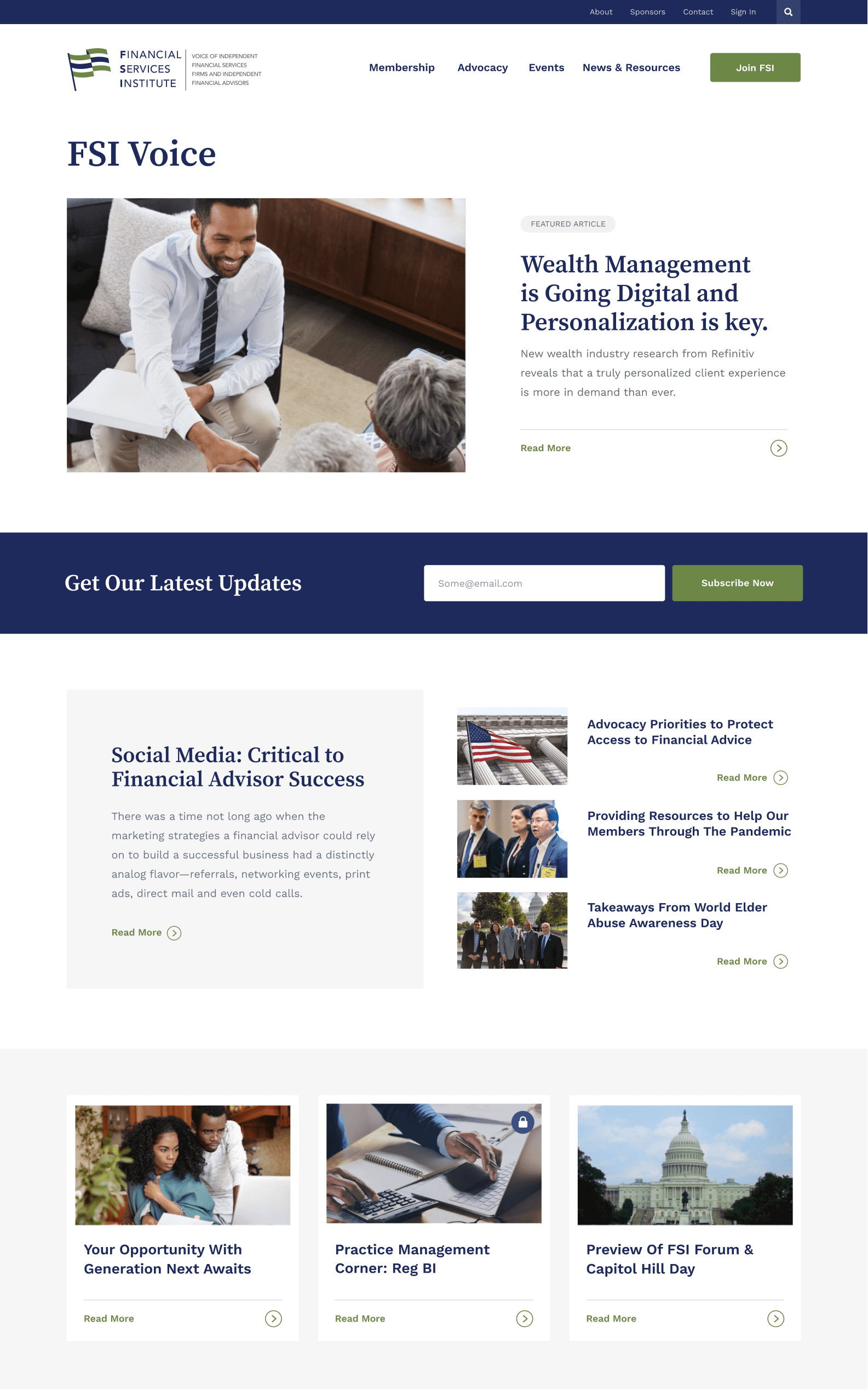 This shift allows FSI to market specific articles through their multi-channel marketing plan–driven mostly by email and social media. It also enables FSI to sell advertising directly on FSIVoice pages with increased exposure for their partners, but better yet, substantive data and metrics to provide their partners for increased awareness and ROI.
Design & user experience
As we explored creative direction for the project, the user experience team consistently prioritized the strategy goals from our web strategists. We pitched numerous design directions varying from typography-based to a polished professional-focused look. After weeks of close collaboration with FSI stakeholders, we landed on a design direction that was a blend of the two–clean and fresh, yet buttoned-up and elegant.
Next, our Chicago-based web design team handed the keys over to our web development team, who was eager to start crafting the refreshed FSI desktop and mobile websites, including a specially designed publication page for the new home of FSIVoice.
Single Sign-On for Member-Based Association
The existing SAML single sign-on with Cobalt (MS Dynamics) on FSI's website was very fickle and didn't always work. Gulo was tasked with solving these integration and workflow problems.
We looked to the WordPress ecosystem and plugin marketplace to find a trusted SAML SSO partner. miniOrange WordPress single sign-on was perfectly suited for FSI and their Member-Based Association. As an enterprise, paid plugin, out-of-the-box miniOrange provides the ability to restrict content, sync with LDAP or Active Directory and work with Cobalts custom integration.