Empathy is the ability to understand the thoughts, feelings, wishes, and expectations of your website visitors. When you're effectively able to see your website through their eyes, you're able to design a website that is exactly what they need.
How can creating a visual sitemap help my website design project?
Design with UX flow in mind
A clear vision for all stakeholders
Fewer surprises as the project progresses
Easily spot errors and gaps in pages, navigation
Creates a roadmap for your project, keeping things on track
What is a visual sitemap?
A visual sitemap is a map of all the pages on your website that shows the hierarchy of web pages.
The most important aspect of this visual is that it clearly shows the connections and the relationship between the pages of the website.
An excellent sitemap layout can help you visualize all of your web pages in a way that allows you to identify workflows and customer journeys.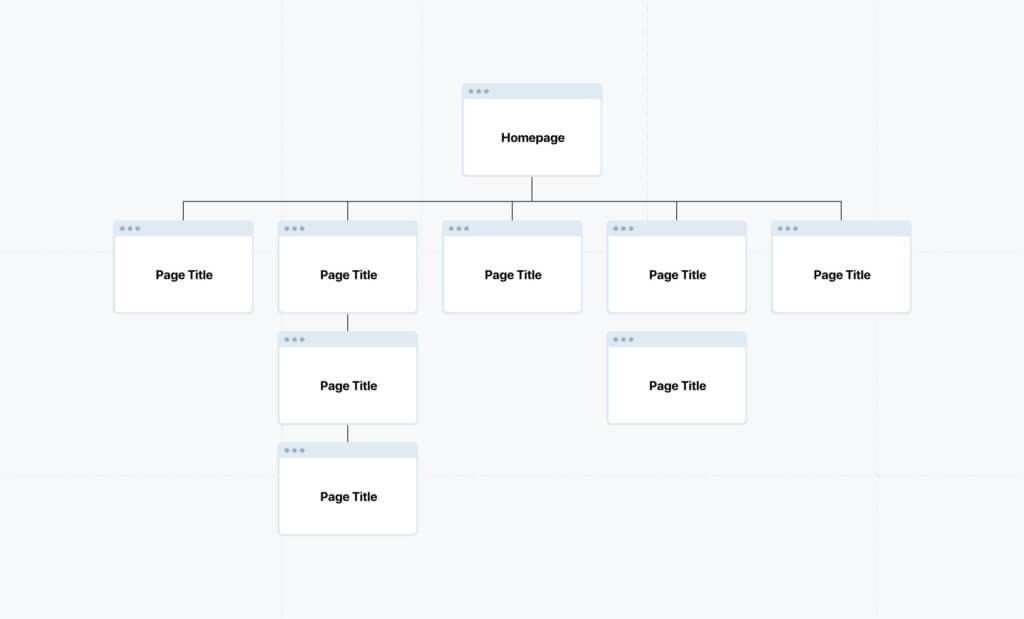 Agencies and web design strategists can drastically simplify building sitemaps by using a visual sitemap generator.
When done right, visuals can save you, and your stakeholders, time, effort, and money.
What's an easy way to create a visual sitemap?
Creating a sitemap design is essential, but it doesn't have to be complicated. Using a software tools solution to create sitemaps online makes this process quick and easy!
Review a competitor's site or a site you find very navigable.
Start with a standard template.
Add primary pages of your website. Include: home page, case studies, membership login, pricing, contact, blog, etc.
Adjust as necessary.
Once you consult with the members of your team and your web design firm, you may be able to identify pages that can be eliminated, combined, or reworked to streamline the user experience of your new website.
Reasons to generate a visual sitemap for your website redesign project.
There are many benefits to using a tool like WriteMaps to create visual sitemaps for your projects. Here are a few we've highlighted:
Improves Client Communication
A good sitemap layout will help you jump-start your website design process project simply and effectively.
One of the most significant benefits of visual website map is that they help your client see their website structure and all the intricate connections between the pages.
Using a visual tool makes the website redesign process easier, especially for those who like to visualize the structure. Visuals will avoid confusion and get everyone on the same page quickly.
For website redesign stakeholders, it's up to the strategist to explain the intricacies of website design, development, user journeys, and SEO in a way that is easy to understand.
It's easy to forget that stakeholders aren't familiar with this process and the nuance in the language behind the process.
Quick tip: make sure you color code your sitemap to make it scannable. This will also improve readability and grouping.

Walking our clients through the sitemap layout during their website redesign project creates meaningful context so everyone can be aligned.

We often refer back to the sitemap design, again and again, to ensure everyone stays on the same page throughout the project's lifecycle.

The visual customer journey becomes an anchor, including:

Information architecture
Wireframes
Prototypes
Development
Copywriting

If you're curious how your site looks with a visual sitemap tool, take a look at what your site map looks like right now. Visual Site Mapper is a free service that can quickly show a map of your site.

When sites are bogged down with unnecessary content, there are usually features, offers, and articles that are no longer relevant. However, they are still live and available to website visitors when they should not be. Ouch!

For websites with a ton of content and legacy issues, our experience tells us that a visual visual website map is the first step to creating a vastly improved website to ensure visitors get the best experience.

When this visual deliverable gets in the hands of the web redesign stakeholders, they can quickly see the improved user journey and user workflows. This new website sitemap easily illustrates how important messages and content can easily be found by site visitors.

Part of the clean-up process is making sure your internal related links provide visitors with opportunities to engage with more of your brand and your content that piques their interests.

Keeps the Focus on the User Journey

When you use a sitemap design to provide structure to your website redesign, you're keeping the focus on the user journey and the customer experience.

How do you want people to feel when they land on your site?
How easily will they navigate through the pages on your site?
How intuitive is the flow?
How are your pages linked together?
Is it intuitive and does it all make sense?

Spending time to understand your audience's user journey and browsing expectations is an imperative step in site mapping.

As UX designers and website experts, we aim to create a good user experience. This helps people do business with you and transact more quickly on your site.

Our ultimate goal for our site visitors is to create an environment where they can quickly and easily find what they are looking for.

Once a visitor lands on a page, we want to answer the question they had that brought them to this page. And if for some reason we fail to do that, provide the visitor a clear path to find their answer.

If visitors get frustrated and feel lost or confused searching for answers on your website, you will lose that visitor as your customer.

Streamline the experience for them with a sitemap layout before you actually start building the pages, and you'll save tons of time and frustration later on.

Helps Ensure Your Site Is SEO Friendly

Is your website easy for Google to navigate? Core Web Vitals, click-throughs, bounce rate, pages per session and session time will all impact Google's signals and algorithms.

A website's architecture is an essential building block for SEO.

By mapping all your website pages out visually, you can ensure all your web pages are linked together correctly, making it easier for the search engines to crawl your site.

Be sure to include both internal links and page hierarchy in your sitemap design. You can then have confidence your site is crawlable by the search engines.

Ready to start your new website redesign?

Visual sitemaps are an essential step that can help set expectations, improve communication with your clients, and keep the team on track.

After 18+ years of designing and building marketing websites, we know a thing or two about the importance of a process and strong visuals when trying to build a website.