As a Chicago Digital Agency for the past 17 years, we've seen a lot. And we love helping our clients improve their website, SEO, and more every day. It's what we do. But we sometimes find businesses who think their website is just fine as it is and that it doesn't need any changes at the moment.
Sometimes we beg to differ, so we thought we'd put together our 7 reasons why your website may need more work than you think, especially during COVID-19.
A Digital Agency Perspective
1. Your Homepage is Just One Page
Do you find yourself worrying mostly about your homepage – how it looks and what content is on it? If so, it's time to think bigger.
The number one complaint of site visitors for the vast majority of websites is that they can't find the content they are looking for after they click beyond the homepage. This is a big reason your website needs work. So, if the primary job of your website is to provide valuable content to your visitors, the quality of content on all your pages is vitally important.
The key to good content structure and maximum content findability is a great information architecture. Gone are the days of simply naming your navigation buttons after the areas of your business "events", "products", "services". When we build websites today, we define the user's journey and provide the content each visitor expects along their path.
SEO-optimized landing pages are something you should begin implementing. It's not enough to just have web pages that provide content your visitors are looking for – those pages must be written and structured with Google's algorithm in mind. A Google-friendly page is a user-friendly page.
The secret to success then is to first know your target audience and then define the different paths they'd like to take on your site. Place relevant, meaningful, SEO-friendly content for them to consume along their paths and you've got some happy site visitors. Think beyond the home page.
2. Your Site Search is Letting People Down
While knowing your audience and surfacing properly structured content is important, the reality is many of your site visitors will skip directly to your site search box and type in what they are looking for.
Is your site search sophisticated enough to pull up relevant content every time on every topic?
Many website owners lose visitors due to poor search results and don't know it's happening. Couple that with a poor content structure and you've left your potential customers/members/donors without many options.
Instead, make sure whatever CMS your site is built on has robust features for search. If not, there are third-party products you can integrate to achieve better results. In fact, some organizations value search to such a degree that they opt for faceted and/or federated search.
Faceted search search is the filtered search results you might find on a retail clothing site where you can first filter by men's or women's, then shirts or pants, then short-sleeve or long sleeve and then by size.
Federated search enables your search box to index content from multiple third-party applications that are connected to your site. It can be quite powerful to be able to not only search your website but also across your learning management system, for example.
3. You're Closer To A Lawsuit Than You Think
Web accessibility is not a topic many organizations are familiar with yet. Or those that are, maybe aren't taking it seriously enough.
But ignore accessibility compliance at your own peril.
ADA lawsuits nearly tripled in 2018 (and are expected to rise through 2020), from 814 the year before to 2,258, according to law firm Seyfarth Shaw.
Why are so many businesses getting sued? Because everyone is online now, including those with poor to no vision and those with poor to no hearing. And they are becoming frustrated when they can't navigate a site or watch a video online. Law firms are taking up the fight for them through our court system.
Your web designer should be able to configure and code your website to be compliant. The size of your site will determine that work effort, though, and generally larger sites take a bit more work (in other words, time and money) to get compliant. Once compliant, you're not yet free and clear, however. As you add or change pages on your site, you'll need your staff to be trained on how to ensure each page and site element they add or change is compliant.
As strange as it may sound, the ADA legislation on its own isn't specific about Web compliance, yet it is the legal basis for lawsuits.
How can that be?
Well, the law has standards by which it gauges your site (based on ADA), but the actual parameters for website compliance are derived from another source. WCAG 2.1 AA is the universal standard for compliance.
Here are some great resources for more information:
AudioEye (an interesting, alternative approach to compliance)
4. You're Not Friends With Google
Whether you think your organization could benefit from search engine optimization (SEO) or not, you can't run from it. It affects you whether you realize it or not, so you should re-examine your stance (if you're not convinced it's for you) for a few reasons. And it's even more important during COVID-19.
If you check your Google Analytics data, then you're checking your SEO data. It's really that simple. How often people visit your site can be largely derived by where you rank in Google. Regardless of what the site visitor's intent was, they've ended up on your site and you should control how they got there as best you can.

Do you have high bounce rates you'd like to remedy? Well, if you're not optimizing your pages for Google then Google may be mis-ranking them for incorrect keywords, leading Google to send people to your site when that's not where they want to go.

One of the worst "dings" your site could get is someone coming to your site from a search results page then hitting their browser's back button because they did not find what they wanted. Google tracks that and your site will be affected negatively including the pages that rank well for you in Google right now even though they weren't the page that got the bounce.

Going through the exercise of optimizing specific pages (not every page on your website by the way, that is not what SEO is) and learning what Google likes and doesn't like can be invaluable to your content creators. Sites created with better SEO in mind tend to create a better experience for visitors, too. Google's goal is to rank pages based on their algorithm's rules, but also on how well the page is geared to bring value to a human.
Outside of these more technical reasons listed above, consider this: the number one place people go to begin their shopping, find information on how to do their job better, or just about anything else, is Google.
What if you made a point to have your blog posts rank higher based on some important industry keywords?
Wouldn't it be valuable for your constituents to see your website pop up again and again when they are searching for things that are important to them?
Forget about sales or increasing memberships, ranking high for certain content gives you authority with your followers and that may be more important than any online transaction you ask of them.
5. Speed (Or Lack Thereof) Kills
You may be surprised to hear this, but how quickly your site loads in a browser is vitally important to your website's success.
As a general rule, people are less and less patient online. Google's data shows that people leave a mobile site if it doesn't load in 3 seconds or less.
A study by Mach Metrics shows that the average load time of a mobile page in 2018 was 8.66 seconds. The math is easy. Whether we're talking mobile or desktop, it's important for your load time to be 2-3 seconds or less or you're going to lose potential business.
You can test your website speed where most Web professionals do:
web.dev
Not sure why your site is running slow? Here are a few potential reasons:
Poor server performance
Large images or multimedia slowing load time
Too many third-party file requests – like Twitter feeds, javascript and others
Your CMS may be outdated
Beyond satisfying your site visitors' need for speed, another reason load times matter is Google likes fast sites. Your site will rank higher in Google search results if it loads quickly, especially on mobile. In fact, Google created Accelerated Mobile Pages (AMP) to push a "mobile-first" mindset into the world of web design.
6. Your Look Is Behind The Times
Sure, design can be subjective. Who's to say what looks good and what doesn't? That's true about art, but when it comes to websites, if you haven't updated your design in the past 2 – 3 years, your site design is likely not where it needs to be. Beyond looking modern and fresh, there are other reasons to upgrade your look and feel.
It doesn't reflect modern user experience practices. Is your navigation bar on the left side of your site? Do you have multiple tiers of drop-downs cascading from each navigation button? Today's sites have simply-designed header areas with navigation buttons across the top that are easy-to-read and understand.
Your "hero" area has multiple rotating images. That central marketing area of your home page needs to meet your visitors' expectations. If you've got multiple, disparate images rotating on your homepage, you didn't get the memo.
Today's hero areas fill up more of the page than those of a few years ago and generally include one static image instead of rotating multiple. Some more innovative sites even have a video playing in the hero area to bring the visitors' attention front and center and to create an opportunity to tell more about the brand.
Here are a few examples of great hero areas:
up4 Probiotics – Relevant brand image with people in motion.
The Side-Out Foundation – a hero image that captures a cause with a specific call-to-action.
7. You're Making People Squint, Pinch and Zoom
How does your website render on mobile devices? Is it mobile-friendly?
Your website needs work if you're not employing responsive web design then you're making people pinch and zoom their way around your site. This will lead to losing visitors quickly. Your site should resize website content to account for a visitor's screen size, giving them the ability to engage with your site with nothing more than a scroll bar.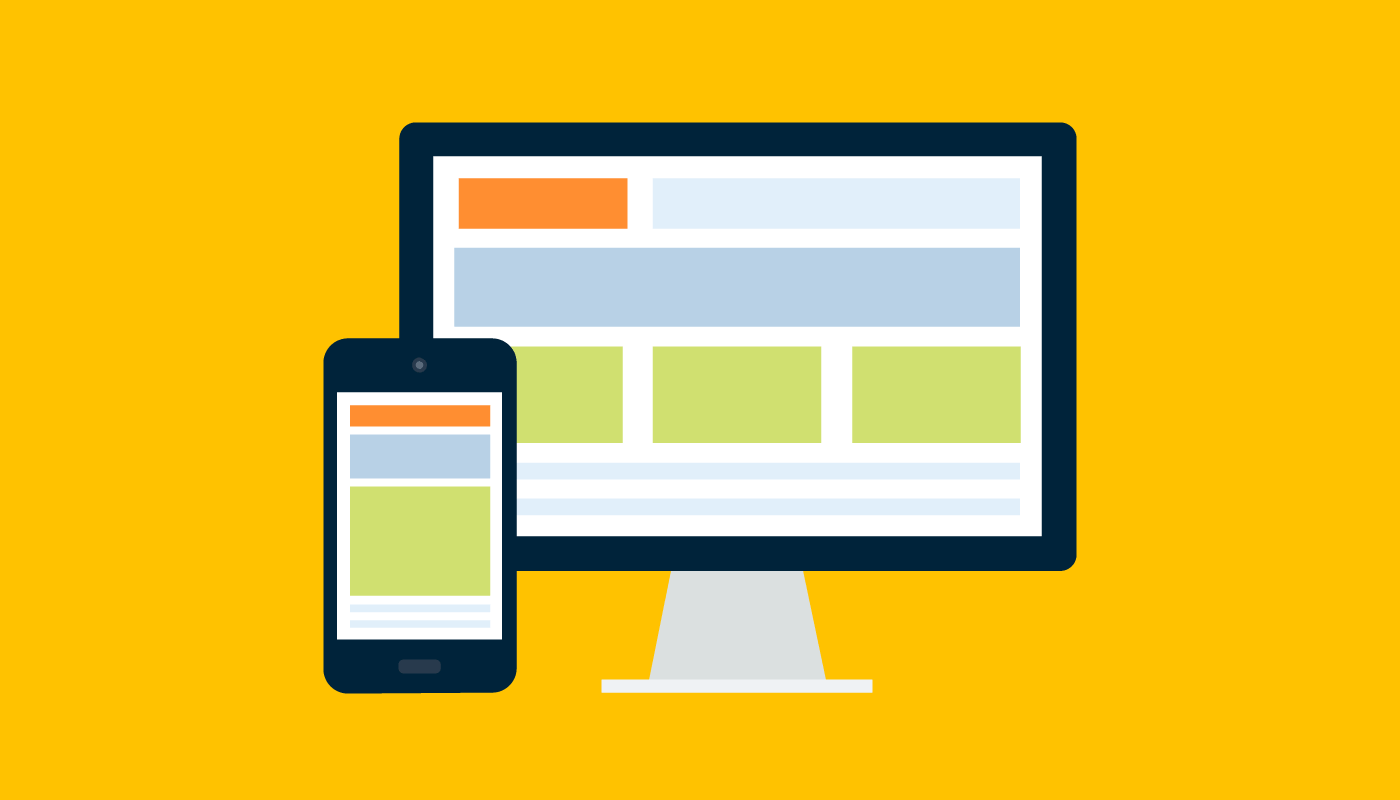 Beyond that, context is another important aspect of the mobile experience. It's not just that your site should look good on mobile, you want to think about where your visitors might be when they pull up your site.
Did you just send them a link in an email newsletter?
Are they in line at Starbucks and deciding to check out the latest industry news on your site?
If you take this extra step and really think about what kind of content makes sense for the potential context, you will be light-years beyond your competition. As a general rule, Google also ranks sites that use responsive design (and AMP) higher in search results.
Why Your Website Needs Work – A Chicago Digital Agency Perspective
There are always ways to make any website better, but sometimes we're not aware of what they are. Technology does move so fast, after all. The purpose of this guide is to help provide you insights into the kinds of things that matter today. Hopefully, at least a few of these ideas piqued your interest and will put you on a path to improvement.